"these howling, swampy takes are full of powerful material" (aka, BAD SECRETS press love)
September 04, 2009
Well we slacked pretty bad and didn't really do any press mailings or anything for the BAD SECRETS debut, but still a handful of quotable things have surfaced for this wacky release: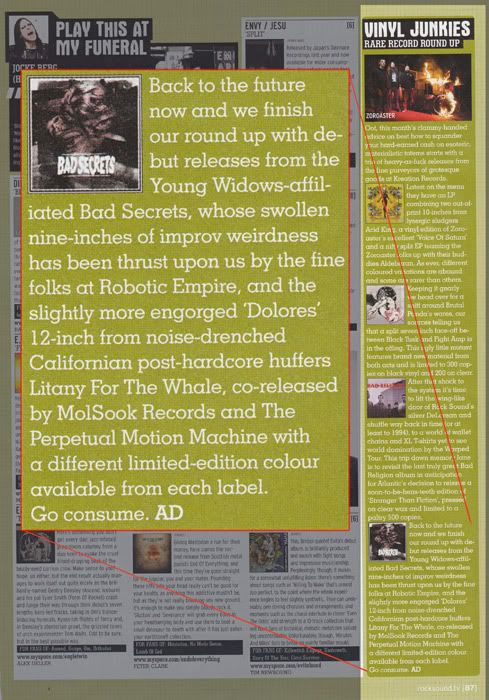 Rock Sound mazagine was cool enough to run that innuendo-infused preview of the 9″+CD, and give some additional love to our Richmond label brethren in MolSook and The Perpetual Motion Machine. Not too shabby! Onwards…
"Similar to the work Evan has been churning out with Young Widows, but with a much more stripped down approach. Using only drums, guitars and vocals, the duo blends elements of drone, country, shoegaze and post-punk/hardcore on this record and recorded the whole thing on a four track cassette, which adds to the lo-fi aesthetic elements of this record."
The MP3 blog Powered By Seitan posted a full download of the album (not too cool) but at least they took it down when we asked (cool). In the midst came the above quote, and a little more. Click here to read the rest of it. Lastly…
"At times the band sound like a more metal-influenced slant on what Nick Cave, or perhaps even Tom Waits might get up to in their rowdiest moments, and far from sounding like a lo-fi dirge, these howling, swampy takes are full of powerful material – with pummeling rock & roll blood and thunder…"
That bit came from the cool UK-based Boomkat online record/MP3 store. They had a bit more to say (and also have the release legitimately available for high-quality download), which you can check out by clicking here.
That's all we've unearthed for now, but still pretty cool regardless. If you haven't heard BAD SECRETS yet, we posted the first song off the record on our Myspace page. We're really pumped with how this 9″+CD debut release turned out and if you like what you see/hear, we encourage you to check it out in our Online Store. Thanks!
The post "these howling, swampy takes are full of powerful material" (aka, BAD SECRETS press love) appeared first on Robotic Empire.