another #1 spot for TORCHE…
June 12, 2009
Half a year after landing Decibel magazine's #1 spot for album of the year, TORCHE is back with a new #1 position…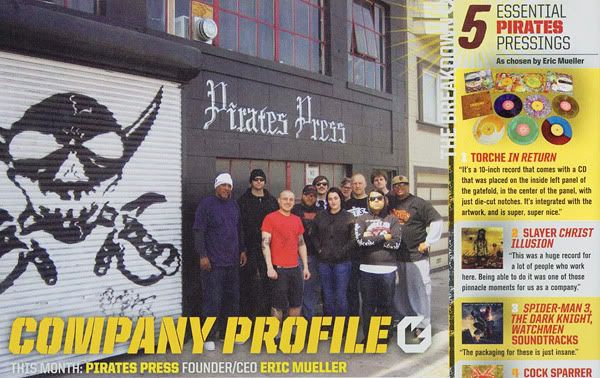 HOLY SMOKES! Out of over 3000 different projects and 2 million+ records made, Pirates Press head honcho (and good dawg of ours) Eric Mueller has picked TORCHE's In Return 10″+CD as the #1 most essential release that they've pressed! This is an incredible honor to us, and we're beyond stoked as this is another way to celebrate the recent 4th (!) pressing of TORCHE's In Return 10″+CD, which is now available in the Robotic Empire – Online Store.
The image above is a segment of the new Alternative Press feature on Pirates Press, and you can read the whole thing here. Whether you love or hate them, there's no denying that Pirates Press came out of nowhere and completely changed the world of vinyl… for both underground and mainstream collectors and fans. We're really happy to have been able to work with Eric and the Pirates for over four years now, and are honored that they picked In Return as the #1 most essential release that they've pressed! Thank you!!
Another label release has been getting press attention too: the new DIAL self titled EP has been showing up in reviewers mail boxes, and we're pretty psyched on this Hex review that just surfaced:
"One of the only words I can use to describe this is 'suffocating'. Everything sounds so dense and evil all at once, and carries through the entirety of this five song EP. Mish-mashing stop-go noise rock with almost tribal, repetitive and trance-like drumming Dial can ride a single riff for a whole song, but tastefully keep most of them reigned in at the three minute mark. Therefore, the sonic pounding lasts just long enough to keep you wanting more, yet breaks you down the same way a drone band would… minus the boring part. It's a sonic, primal beating from out of nowhere and I feel like I ought to join an end of the world cult after hearing this…"
Two tracks from this EP are still streaming at our myspace page (and another one at the band's myspace page), and if you like what you hear we're only asking 5 bucks for this CDep. It is available now in the Robotic Empire – Online Store.
Thanks!
OTHER CRAP:
Robotic Empire's Twitter
Robotic Empire on Myspace
Robotic Empire on Facebook
Robotic Empire's email list
Robotic Empire's news blog/archive
Robotic Obscurities free audio archive
Robotic Empire's youtube channel
Robotic Empire's main website
The post another #1 spot for TORCHE… appeared first on Robotic Empire.