AIDAN BAKER's new 2xCD set for January 17th release, first preview tracks posted
November 30, 2011

Berlin-via-Montreal transplant AIDAN BAKER (one 1/2 of prolific duo NADJA) has set his latest double album, "The Spectrum of Distraction", for a January 17th release date. Robotic Empire will be releasing the album worldwide as a 2xCD and expanded digital download.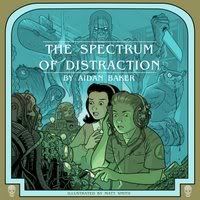 Designed to be intentionally played at random, "The Spectrum of Distraction" is 96 tracks spanning a vast array of genres, creating a completely unique yet rewarding listen each time. Baker solicited drum tracks from 18 different drummers (including current and former members of SWANS, THE JESUS LIZARD, SLOWDIVE, KILLING JOKE, GODFLESH, JESU and more) which he then crafted instrumental work atop of.
In regards to constructing the album, Baker said,
"Originally I was going to stick pretty strictly to Zappa's 'xenochrony' idea of randomly putting pieces of instruments together, so that the drums, bass, and guitar would be recorded separately and then pieced together to see what came out. In the end, because of some different times and textures, instead of taking individual drum loops, I just used the entire track and recorded to everything I got."
Six hours of material was the result, of which Baker then pieced down to two hours across the pair of discs. Thematically complimented by a "Choose Your Own Adventure" style layout, an extended session of the full recordings is also included as an digital download card.
With organizing the playback of the release, Baker had the following to say:
"I structured it so that it would be a different listen every time… A couple of people that I sent it to … let it shuffle between the two separate discs and not just the one disc. That's yet another possibility… They can listen to it as sequenced if they want, too. I set it up to have some kind of flow that way, but it's up to the listener, really. "
A handful of preview tracks are surfacing now, with the first to accompany a a lengthy Pitchfork Media feature on Aidan Baker, "The Spectrum of Distraction" and other collaborations:
http://www.pitchfork.com/features/the-out-door/8718-closing-the-books/3/
Further tracks posted from "The Spectrum of Distraction" will be announced soon, and pre-orders for the 2xCD +digital download of the physical release are now available through Robotic Empire and their distributor Revolver:
https://www.roboticempire.com/store/index.php?main_page=advanced_search_result&keyword=Aidan+Baker
http://www.midheaven.com/item/spectrum-of-distraction-by-baker-aidan-2xcd
The post AIDAN BAKER's new 2xCD set for January 17th release, first preview tracks posted appeared first on Robotic Empire.